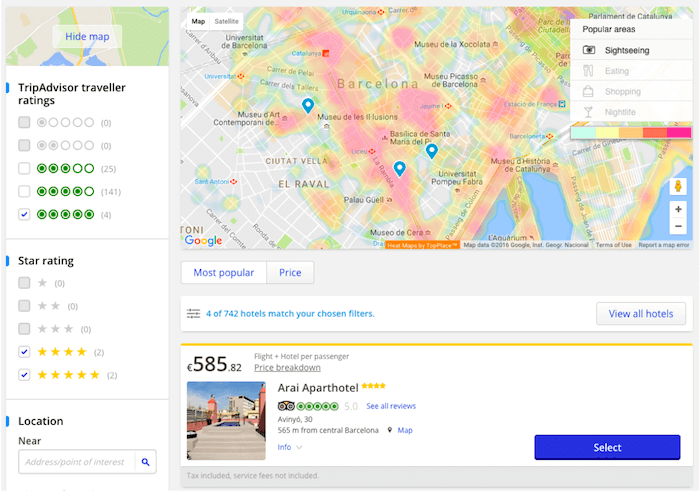 "eDreams ODIGEO, Europe's largest online travel company, has integrated a new heat maps feature into its Flight + Hotel package platform, allowing the 17 million customers of eDreams, Opodo and Go Voyages, to find the perfect place to stay based on their personal needs and tastes over 40,000 destinations."
"The new tool gives eDreams ODIGEO customers even more ways to personalise their trip and choose the hotel that's best suited to them."
"Based on a colour-coded system, the heat maps indicate the hot spots for the selected destination in relation to four key categories: sightseeing, restaurants, shops and nightlife. Areas which show up as red denote the busiest and best locations in each category.
With more people flying than ever before, and the vast majority of travellers now using a range of online tools to find the best deal, Heat Maps gives these expert searchers another way to tailor their travel plans with all the local information they need right at their fingertips."
"Marcos Guerrero, Chief Product & Retail Officer at eDreams ODIGEO, said, 'We are continuously working to make it easier for our customers to create a really personalised travel experience. They know they want from their travels, our job is to help them achieve it, whether that's the best value deals or knowing the right hotel to make the most of local shopping and nightlife.     
Optimising the performance of our platforms is a top priority for us, and we are firmly committed to introducing new and exciting products that offer added value and the opportunity to personalise the travel experience for our customers whilst saving them valuable time and money.' "

Read the full article:
eDreams ODIGEO | eDreams ODIGEO introduces 'heat maps' to make booking hotel accommodation even more personal