TopPlace™ Location Scores for Real Estate
Type an address below to see its Location Scores
Why
?
Location, Location, Location!
Location defines the desirability and price of a real estate property.
The Location Scores for Real Estate provide essential location context to website visitors during the property search process, increasing the amount of quality leads.
What?
The Location Scores for Real Estate is a set of scores for any address worldwide, rating a property location based on nearby services within a reasonable walking or driving distance.
The scores are generated in real time, with intricate calculations using large amounts of constantly updated location data. 8 score categories are generated by analyzing and grouping 42 sub-categories of relevant nearby points of interest.

The Location Scores are especially useful for those Real Estate Agencies who prefer to not disclose the exact location of their listed properties, but want to provide essential location insights.
A richer Location Context can be achieved by combining the Locations Scores with the Location Page, which has built-in maps, layers, POIs and more: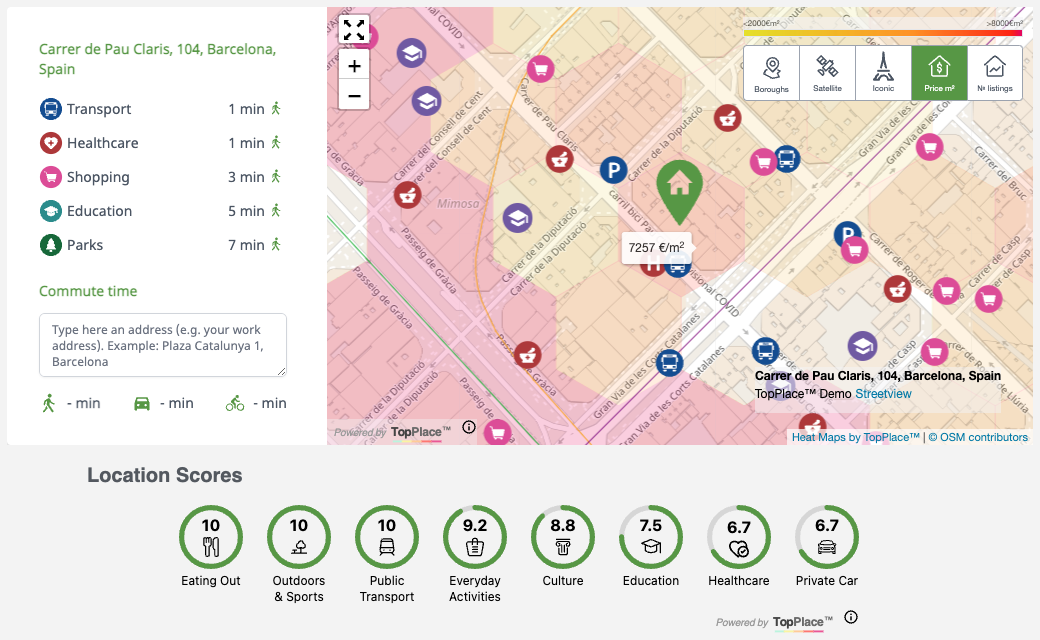 Benefits
Generate more Quality Leads
Enhance your User Experience with better Location Context – help users make informed decisions, faster
Save time and resources – with a quick & easy integration, improve your service with a ready-built product that is multilingual and scalable
Easy Integration
It takes less than 30 minutes for 1 developer to integrate the TopPlace Location Scores. It's just 2 lines of code. You can have the scores live after just two 2 steps:
1st step: contact us and tell us what's your website address url.
2nd step: copy-paste the 2-line code snippet that we will send you.
Example:
<div id="app" data-longitude='2.1411' data-latitude='41.3904' data-mode="walk" data-minimum-score="60" data-avuxi-key="YOUR_KEY"></div> 


<script type="module" src="

https://scripts.avuxi.com/real-estate/real-estate-score/widget/latest/realestate-score-widget.js

"></script>
Getting Started

SIGN UP NOW for immediate access or CONTACT US and we will respond within a few hours with your integration code.