TopPlace™
Map Layers
Different layers for different purposes to increase conversions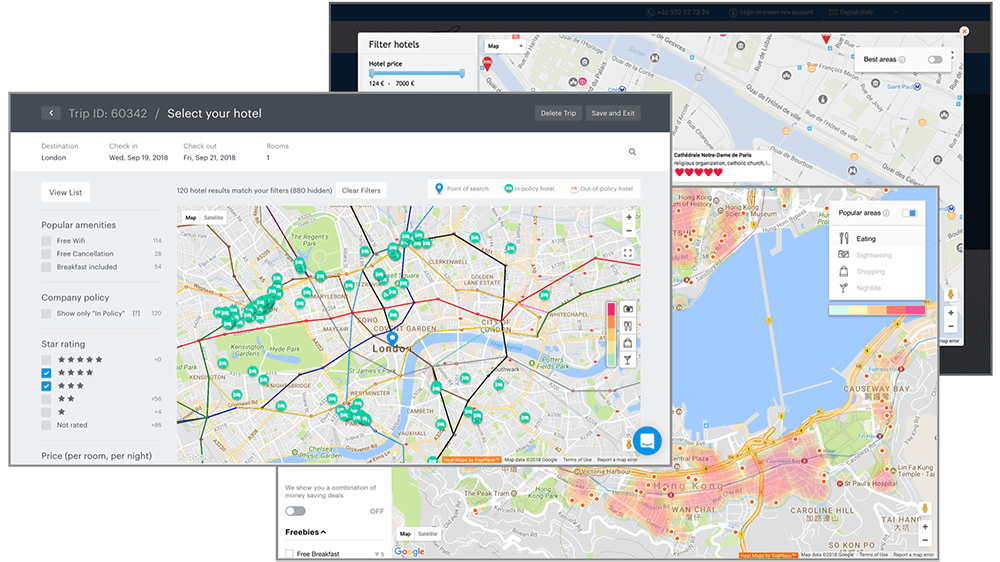 Whom is it for?
AVUXI's TopPlace™ Map Layers is mainly tailored for OTAs (Online Travel Agencies) and hotel Metasearch sites and consists of several products.
TopPlace™ Map Layers products help retain your visitors, increase conversions and increase the average booking value.
What does TopPlace™ Map Layers include?
TopPlace™ Heat Maps. Instant overview of the most popular areas within a city displayed in easy to understand map overlays.
Points of Interest (POIs). Display the most popular POIs by category in any city on Earth.
Social Neighbourhoods. A new way to understand the city. Shows city areas by type, not by name.
Public Transport. Keep your visitors on your site. Easy visualisation of main public transport options. 
Maps. Detailed, but clear styled map tiles. Optimized for use with overlaid data, or just stand-alone.
1. TopPlace™ Heat Maps
An easy to install map layer that accurately shows the most popular areas within any city, worldwide, in various categories, such as Eating, Sightseeing, Shopping, Nightlife, Parks & Waterfront, etc.
Discover popular areas
Search any city and see the best areas to do the things you want. Search for any hotel, place or address and see what its location is like.
Try the super-easy setup process:
2. Points of Interest (POIs)
In addition to the activity filters, the GeoPopularity Heat Maps reveals relevant points of interest (POIs) in every city on Earth. The POIs are organized according to the same categories as the filters: Eating, Shopping, Nightlife and Sightseeing.
The locations of the POIs appear on the map view along with a brief description and a score. The inclusion of the points of interest allows Heat Maps users to gain a more detailed understanding of what each city has to offer.
Only POIs with the highest popularity scores are displayed in order to show the most interesting places in each city and avoid over-saturating users with information.
3. Top Areas – aka Social Neighborhoods
"City center" is never just a single dot on a map, it is an area (in some cities more than one) that has a different size and shape in every city. Writing "0,3 km to city center" can be misleading when a hotel is already located within the city center area.
A city may have many green areas, but which ones are thriving with social activity? There may be a beach along a city's coastline, but which segments of the beach are really popular and lively? Where is the city's High Street area?
Top Areas provides the answers in an instant snapshot for 30 major cities worldwide (more coming soon). It allows travelers to gain an instant understanding of a city without long hours of tedious research.
Top Areas are part of the TopPlace™ platform and are meant to highlight the most relevant city areas and neighborhoods according to their actual social profile instead of an official district division.
4. Public Transport
Public Transport is part of the TopPlace™ platform and it allows OTAs and Metasearch sites to add a Transport layer for major destination cities, directly on their maps.
The Public Transport layers facilitate the end users to see the subway commute options to their desired location without leaving the booking site.
Available in 70+ cities.
5. TopPlace™ Maps
All TopPlace™ subscription customers can use our thoughtfully customized maps, in addition to our location context products, at no extra cost.
This service allows our customers to use our standalone maps across their websites, with or without other TopPlace™ map layers. This gives an option to our customers to save thousands in monthly costs by replacing expensive maps.
You can try how easy is the setup in this live demo:
Benefits
Immediate increase in booking revenues
Zero maintenance & updates costs – use the most recent location data available without spending resources to stay up-to-date – we've done it for you!
Zero R&D costs – new products and features become available as we develop new products – you'll always have the latest in location insights!
Zero development costs – no need to have specialized developers & data scientists on your payroll working on location insights – it's all ready!
Zero infrastructure & traffic costs – our servers take care of the processing and serving of our Heat Maps tiles, location score elements etc – save on costs!
Features
Worldwide coverage – covers all hotels & apartments (even brand new listings)
Scores for several categories of main traveler activities (not just an overall generic score)
Nearby most popular Points of Interest (POIs) included for every property listed
Localized into 40+ languages
Plug&Play integration – can be added to any site with just 2 lines of code (it only takes minutes)