Travelers seek an authentic and unique experience when visiting a new city. They may envision themselves knowing their way around the city – roaming beautiful streets, dining on the traditional cuisine, exploring the city's green space or dancing the night away at a local club.
However in many cases they find themselves overwhelmed by a maze of seemingly indistinguishable streets and neighborhoods with foreign names, which makes it difficult for them to locate the most interesting areas of the city. Imagine you are traveling to Budapest, need to book a hotel, and you are offered this list of neighborhoods to choose from: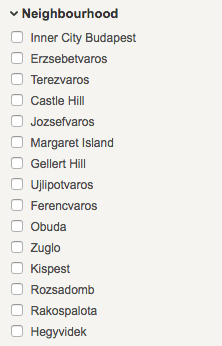 Now imagine knowing the most socially relevant areas in any city – with just one glance!
With AVUXI's new Top Areas product (aka Social Neighborhoods) any traveler can explore a foreign city like a local.
The new product extends into 30 major cities across the globe and labels popular zones with their most notable characteristics. As of right now the categories include Historic, High Street shopping, Beaches, Business, Multi-cultural, Green Parks, City Center, Young People/students and Posh areas. This allows travelers to gain insight into a new city that would otherwise only be accessible through hours of tedious research.
Most importantly it ensures that travelers maximize their experience by exploring the places that matter to them. This means more satisfied customers and a higher chance they will return to your site to book for their next trip.
If you would like to learn more about our new product, contact us. Be sure to tell us if there is an area category you'd like us to add.
If you would like more information on all of the other products check our TopPlace™ Product Suite.