We are delighted to share that Stayforlong has selected TopPlace™ to enhance the location context on their websites. It makes us especially happy to have another client enjoying the benefits of our new platform!
Our products keep expanding worldwide thanks to the trust that renowned Travel companies, like Stayforlong, place in us.
Their amazing team started by implementing two of the most popular TopPlace™ products to provide a better UX. It only took one week of testing to record higher conversion rates.
Working with Stayforlong's team has been a privilege. So, let's take a closer look at Stayforlong and the TopPlace™ Location Context products that they've implemented to date.

What
is
Stayforlong
?
Stayforlong is an online travel agency website that allows users to discover, compare and book extended stay hotels in various cities around the world.
This OTA specializes in helping customers find great deals on extended hotel stays of three nights or more, giving hotels longer reservations and travelers better rates for their extended stay.
The company was created in 2015 and its headquarters are located in Barcelona (Spain).
Stayforlong product team is focused on providing their users with the best possible experience. This is one of the reasons why TopPlace™ location products became an essential part of their product improvement strategy.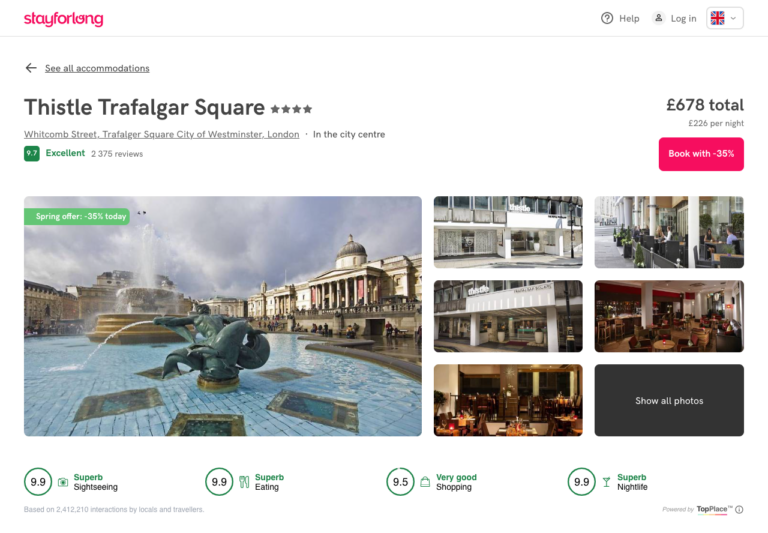 Hotel location rating for Sightseeing, Eating, Shopping and Nightlife with TopPlace™ Location Scores, powered by AVUXI.
Meaningful Location Context for every accommodation, instantly
Location is an essential criteria for customers when they choose accommodation and it becomes even more important to show it properly for travelers that visit places for the first time.
A solution was needed that could quickly provide essential location context with worldwide coverage.
AVUXI's TopPlace™ Location Scores combined with TopPlace™ Location Page (map included at no additional cost) were a carefully reviewed choice. TopPlace™ location context products combine worldwide coverage, ready localization to multiple languages, easy & quick implementation and a very affordable pricing.
With TopPlace™, Stayforlong is able to give its visitors a much faster and deeper understanding of the surrounding area of each hotel or apartment. Location scores and information about nearby points of interest are essential to help visitors make better informed decisions. It also provides key answers to one of the most frequently asked questions – "What's the location like?" – in unfamiliar destinations.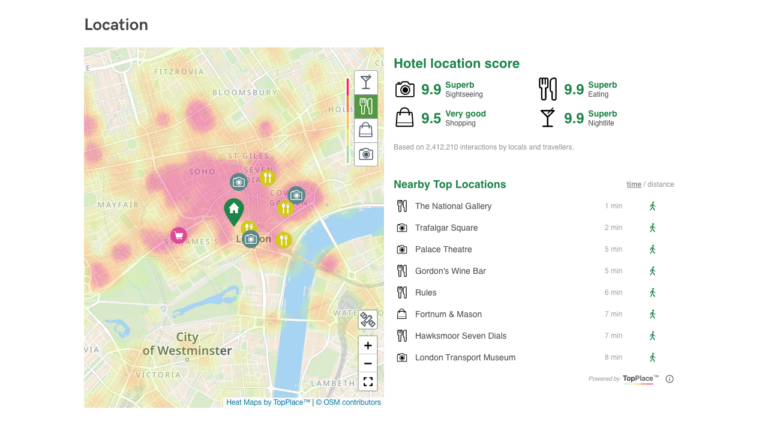 TopPlace™ Location Page powered by AVUXI with map, heat maps, location scores and top POIs placed in the hotel results pages in Stayforlong.
Thanks to TopPlace™ products, users can decide faster and better where to stay, with the confidence that higher accommodation prices are justified by the location of the accommodation.
We are glad the Stayforlong team has chosen us to help them improve the accommodation booking experience of their customers!
We look forward to having more travel companies joining TopPlace™ and enjoying all the benefits of our cooperation. If you'd like to know more about what TopPlace™ could do for you , you can try it for free or reach out and we will be happy to help.
Welcome Stayforlong!