We are delighted to inform you that TopPlace™ Location Pages for Travel have been added to AVUXI's new platform!
These are the latest Location Context products for Travel made available on the new platform, since we launched it 3 months ago. Although these products have been available in the legacy platform, the new platform allows to tap into a growing amount of options and products.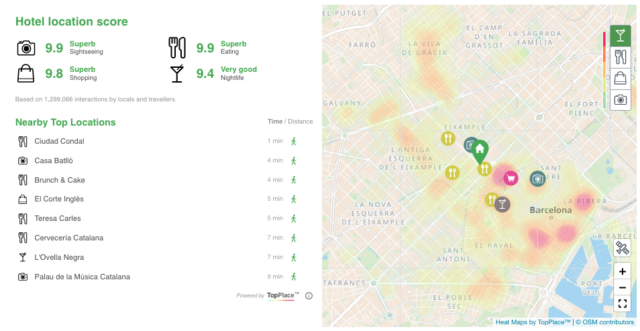 Example of TopPlace™ Location Page for Travel – option with a list of nearby top POIs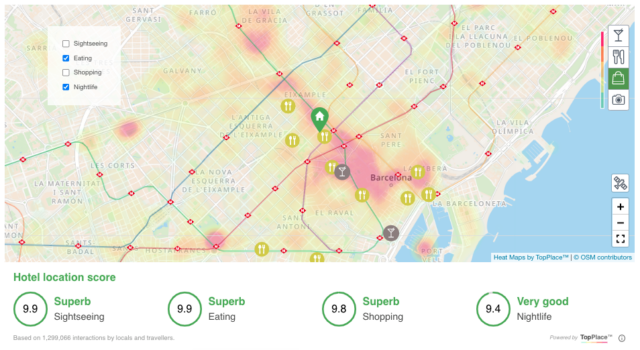 Example of TopPlace™ Location Page for Travel – option with Location Scores and Map Layers only
What are the TopPlace™ Location Pages for Travel?
The Location Pages for Travel are easy to integrate plug&play widgets, originally designed for OTA and Metasearch sites.
These widgets provide meaningful, contextually rich location information for users looking for the perfect accommodation. They include a map with top nearby POIs and Heat Maps, to highlight popular city hot spots for activities like Sightseeing, Eating, Shopping and Nightlife.
The hotel/apartment is also rated with Location Scores in order to provide quick insights about its location, depending on the type of popular activities in the area.
Because the map is included at no additional cost, the Location Page widget can replace the "standard map with a pin" usually placed on the hotel/apartment description pages.
The Location Pages can be displayed on the listing results and on every hotel or vacation rental description page.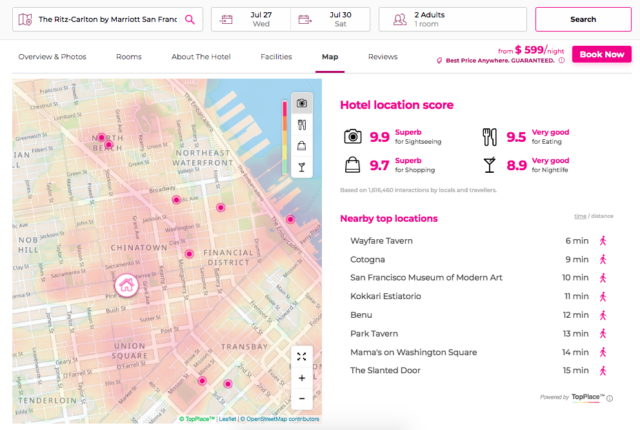 TopPlace™ Location Scores for Travel used in Splitty Travel 
Why are TopPlace™ Location Pages relevant for your business?
Location is one of the most important criteria being considered when booking accommodation. It can have a major impact on the desirability and pricing of a given hotel or apartment. During the booking process, a user may be willing to spend more on accommodation, depending on the convenience and quality of the location.
Users need an efficient and reliable way to become more knowledgeable and confident in their booking decisions, especially when booking in unfamiliar destinations. By providing them with the key insights to select the best accommodation, without having to leave the booking site, user retention, user satisfaction and booking conversions can be increased.
However, many accommodation websites often lack sufficient meaningful location data. This is because collecting, processing, extracting, and converting the necessary information into a usable, easily understandable product is a labor-intensive, never-ending process.
With TopPlace™ every listed accommodation can be accompanied with essential location context after a quick and simple "copy-paste" integration.
At AVUXI we are obsessed with helping our customers to provide useful and contextually relevant location content on their sites. We strive to make it a simple process, with an affordable and very quick setup.
More Travel products will be added soon. Stay tuned!
What are the new benefits of using our new platform?
We are very focused on catering to our clients needs and act accordingly. The added benefits of using the new TopPlace™ platform are:
✅ Free usage – now you can use our products for free, until you reach the monthly traffic threshold.
✅ Costs reduction – only pay for what you use, no fixed monthly fees (unless agreed upon request).
✅ Pricing transparency – now you easily compare our prices to other location products providers before deciding what's the best option.
✅ No time constraints – now you can deploy our products at your own pace, without worrying about the end of the free trial period.
✅ Better insights – as each product is tracked and billed separately, it's now very easy to understand the ROI of each product in use.
Why should this matter to You?
Enhance your user experience with the right location context – help users make informed decisions, faster
Generate more quality leads and increase conversions
Users like it! Make them want to use your service, again and again
Save months of work & development costs with a ready built, tested product
Save efforts & costs on data processing and updates
Clear & very affordable pricing
Easy & Quick Integration – Start for Free
It takes a very short time for 1 developer to integrate our products for in your website. It starts with just 2 lines of code. 
The subscription is FREE and it can remain free for websites with small traffic until you reach a threshold of 1000 widget loads per month. Websites with higher traffic only pay per use and will get volume discounts.
Do not hesitate to contact us, if you have any questions.
Welcome to TopPlace™!