We are thrilled to announce that TopPlace™ Map Layers for Mapbox have been added to AVUXI's new platform!
This is the latest TopPlace™ Location Context that can be accessed through the new platform. Although this product has been available in the legacy platform, the new platform has opened up a wide range of options and products.
Initially created for Travel websites, this product is also a great fit for Real Estate and Housing-on-Demand (mid-stay) sites.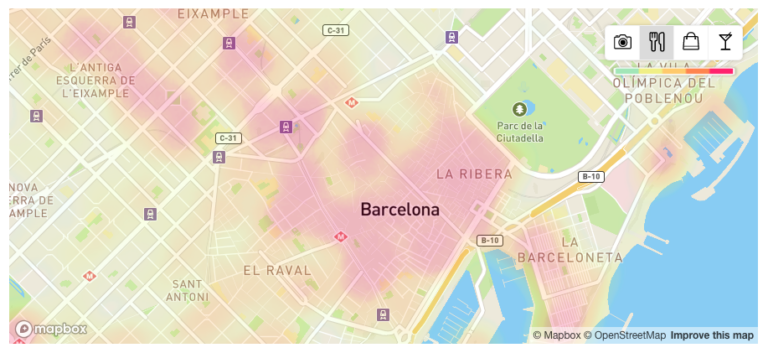 TopPlace™ Map Layers for Mapbox by AVUXI – showing the most popular areas for eating in Barcelona

What are the TopPlace™ Map Layers for Mapbox?
The Map Layers for Mapbox are a specially designed set of map layers that can be easily added as a widget on top of a Mapbox or MapLibre map. By using these layers, users can gain critical location information such as highlighting the top destinations in a city or displaying metro stations and lines for larger cities.
The Map Layers are a great addition for Travel, Real Estate and Housing-on-Demand (mid-stay) websites that use Mapbox or MapLibre as their base maps provider. The layers can be displayed on the search results map, or the property details map.
Alternatively, our clients can choose to use our map tiles, which are available as part of the product at no additional cost. This translates into huge savings. More information here.
TopPlace™ Map Layers for Mapbox gives users more information when searching for a place to stay. It displays public transportation, as well as Heat Maps illustrating the most visited spots for activities like Sightseeing, Eating, Shopping and Nightlife. By using this service, users can easily gain insight into the busiest areas of a city by viewing informative map overlays
With the TopPlace™ widget, front–end developers can quickly and conveniently implement its UI buttons without having to create any interfaces. It takes less than an hour to fully integrate the widget.
TopPlace™ Map Layers for Mapbox – option that includes public transportation
Why are TopPlace™ Map Layers for Mapbox relevant for your business?
The phrase "Location, location, location!" is often used to emphasize the importance of taking location into account when making decisions such as booking accommodation or buying a home.
The location of a hotel, apartment, or house can greatly influence its desirability and price. Many people are willing to pay more for a reservation if they know that the location is optimal.
By offering users the resources to make informed and confident decisions when selecting accommodations, even in unfamiliar places, user satisfaction and retention can be improved while increasing bookings. Through an efficient and dependable process developed within the booking site, users can access all the information they need to make the best possible selection.
The process of collecting, processing, extracting, and converting the necessary information into a usable format for listing websites is time–consuming and labor–intensive. However, having sufficient meaningful location data is still worth the effort. At AVUXI we have done all the hard work for you.
With TopPlace™ every listed accommodation can be accompanied with essential location context after a quick and simple "copy-paste" integration.
At AVUXI we are obsessed with helping our customers to provide useful and contextually relevant location content on their sites. We strive to make it a simple process, with an affordable and very quick setup.
What are the new benefits of using our new platform?
We are very focused on catering to our clients needs and act accordingly. The added benefits of using the new TopPlace™ platform are:
✅ Free usage – you can use our products for free, until you reach the monthly traffic threshold.
✅ Costs reduction – only pay for what you use, no fixed monthly fees (unless agreed upon request).
✅ Pricing transparency – you easily compare our prices to other location products providers before deciding what's the best option.
✅ No time constraints – you can deploy our products at your own pace, without worrying about the end of the free trial period.
✅ Better insights – as each product is tracked and billed separately, it's now very easy to understand the ROI of each product in use.
Why should this matter to You?
Enhance your user experience with the right location context – help users make informed decisions, faster
Generate more quality leads and increase conversions
Users like it! Make them want to use your service, again and again
Save months of work & development costs with a ready built, tested product
Save efforts & costs on data processing and updates
Clear & very affordable pricing
Easy & Quick Integration – Start for Free
It takes a very short time for 1 developer to integrate our products for in your website. It starts with just 2 lines of code. 
The subscription is FREE and it can remain free for websites with small traffic until you reach a threshold of 1000 widget loads per month. Websites with higher traffic only pay per use and will get volume discounts.
Do not hesitate to contact us, if you have any questions.
Welcome to TopPlace™!