We are happy to welcome wndr to the TopPlace™ family!
We are excited to announce that the travel tech start-up wndr has chosen our products to enhance the location context on their new booking platform. Glad to have another client benefiting from the products and features of our new TopPlace™ platform!
It is a privilege to work with teams that help us improve and grow together as a result. Let's take a closer look at wndr and the TopPlace™ Location Context products that they've implemented to date.

What is wndr?
wndr is a travel tech start-up that partners with the Internet's best content creators in the travel industry in order to bring travelers the best experience. 
From deciding where they want to go, what they want to do and where they want to eat, to booking their hotel stays at wholesale prices (aka highly discounted hotels).
With wndr, creators can make trips more accessible and authentic for their followers. This means that the wndr team has to offer their users the best possible experience, and of course, location context is one of the most important things to consider.
This is one of the reasons why TopPlace™ location products became an essential part of their product improvement strategy.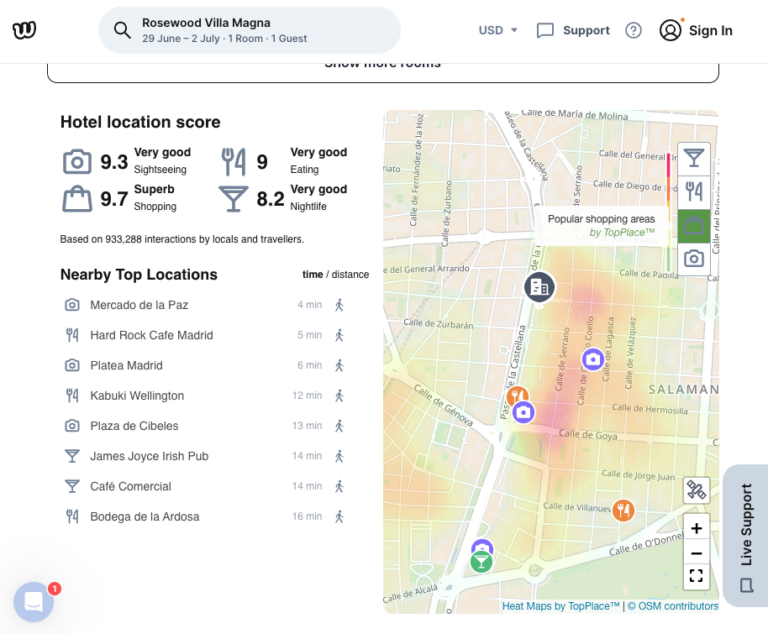 TopPlace™ Location Page for Travel powered by AVUXI with map, heat maps, location scores and top POIs placed in the hotel results pages in wndr.
Meaningful Location Context for every accommodation, instantly
Location plays a crucial role for customers when selecting accommodation. Its significance becomes even more pronounced for travelers visiting unfamiliar destinations for the first time. Even when recommended by creators, additional location insights allow potential customers make a more certain decision faster.
To address the need for a fast and comprehensive location context solution with global coverage, there was a need for a personalized and user-friendly solution.
The wndr team started by implementing the most popular TopPlace™ product, Location Page for Travel. It is a well-proven and easily customizable product that provides essential location insights to improve the user experience. Numerous TopPlace™ clients have increased conversion rates as a result of using this product.
AVUXI's TopPlace™ Location Page includes a map at no additional cost, heat maps of the city hotspots, location scores and POIs. It has worldwide coverage, it's already localized to multiple languages, has an easy & quick implementation and a very affordable pricing.
With TopPlace™, wndr is able to give its visitors a much faster and deeper understanding of the location at city scale as well as the immediate surroundings of each hotel or apartment.
The scores and information about nearby points of interest are essential to help visitors make better informed decisions. It also provides key answers to one of the most frequently asked questions – "What's the location like?" – in unfamiliar destinations.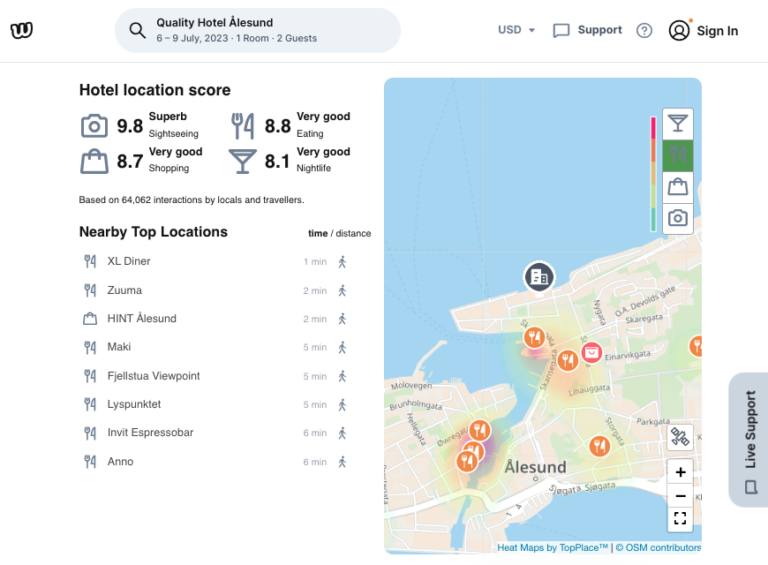 Hotel location rating for Sightseeing, Eating, Shopping and Nightlife with scores in TopPlace™ Location Page, powered by AVUXI.
Thanks to TopPlace™ products, users can decide faster and better where to stay, with the confidence that higher accommodation prices are justified by the location of the accommodation.
We are glad the wndr team has chosen us to help them improve the accommodation booking experience of their customers!
We look forward to having more travel companies joining TopPlace™ and enjoying all the benefits of our cooperation. If you'd like to know more about what TopPlace™ could do for you , you can try it for free or reach out and we will be happy to help.
Welcome wndr!