When running a travel booking website, you work hard to attract visitors. You spend a great chunk of your time and resources to get visitors to come to your website. But this is only the first step.
Once you've acquired your visitors, you want to make sure you provide the information they need to make a booking decision. Your search and product pages should serve this purpose with relevant property and location information.
But that doesn't mean hitting visitors with lengthy descriptions – keep information simple to give just the right amount of information without overwhelming your visitors.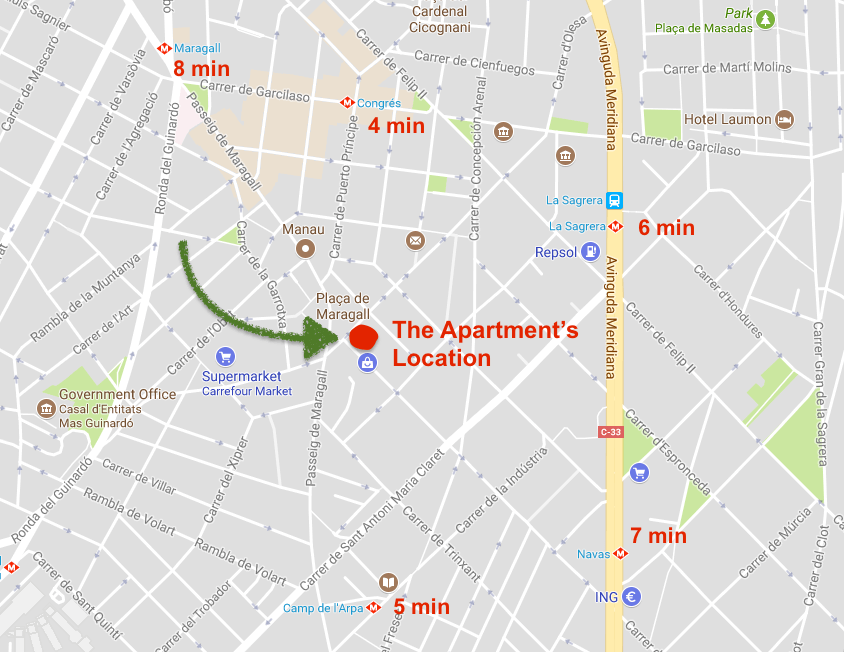 Location is essential to travelers
It used to be close to impossible for travel booking websites to provide accurate and relevant information about the location of every hotel or vacation rental – according to some estimates there are 17.5 million guest rooms in the world. Which is why we have been working hard to address this need.
Many of you are already familiar with our worldwide Heatmaps of Best Areas and with our Location Scores, which have been helping millions of travelers choose the best place for their stay.
During the last months we have been working on a new and exciting product. And today we have a new addition to the family of TopPlace™ location insights:
Nearby Transport – new addition to AVUXI TopPlace family
Nearby Transport is a new addition to Location Scores, available on our Advanced subscription plan.
Like our other products, it can be integrated into your website in 15 min with a simple copy and paste of line of JavaScript code.
It is made up of two key parts:
– Transport Badges
– Transport POIs
Why we decided to do this
We have been talking to all kinds of travel booking companies—large and small, hotel and vacation rental sites—and they told us that there is no easy way to get accurate public transport proximity details for properties. Sure, there are some APIs, and some travel companies have even tried to collect their own data on transport, but in both cases they ran into data quality issues, such as duplicated, missing or incorrect information. It needed to be cleaned and verified, and often sites were still displaying inaccurate information.
So we thought:
"Why should so many travel companies spend so much time and get mediocre transport information.
Wouldn't it be better if one data location company did it truly well and provided that information to them?"
We do it more accurately than others
We have gathered and verified train and metro stations in ~100 major cities around the world. We have gathered and verified their exact names and their exact locations. We have made sure the list is complete, accurate and has no duplicates. In some cases our public transport data is even more accurate than that of Google (more on that in a future post). On top of it we build in the algorithms that instantly calculate the proximity of any given location to the nearest transport stations.
So what does it look like?
Nearby Transport: Badges highlights the properties close to public transport – only properties within 800 m (10 min walk) to train/metro station will display it. Automagically. No need to verify or manually update each property's description.
This quick visual insight is particularly useful for travelers who plan to use public transport for business or leisure (most travelers to large cities!).
Intended for the property cards on the search results page. Display it over the property photo or within the property info:

On mouse hover, it will show a tooltip with a list of nearest stations with distance:
_______________________
Nearby Transport: POIs is an info block with nearby transport POIs, intended for the property details page.
It displays a list of stations within 800 m from property. Place it on the property details page – in you Location or Nearby section or near a map. It will also work perfectly next to our list of nearby Sights that you can also display with Location Scores.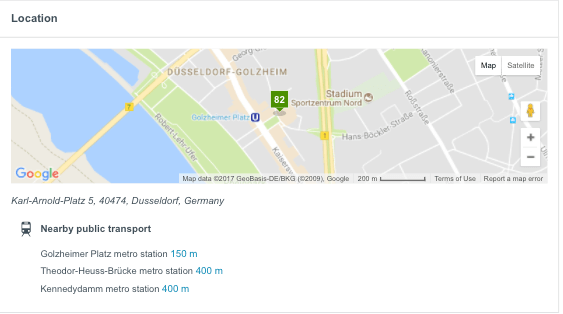 Add it to any type of property on any website and style it your way
Our product is not dependent on hotel/apartment databases. Because it is coordinates based, we are able to display public transport nearest to any location (currently ~100 major cities and growing), even for a property that you added 5 min ago. You can use it with any hotel or vacation rental or any other property or city location.
The look of the Transport Badges and Transport POIs will adapt to your website's CSS. And you can further customise the styles and colors in CSS the way you like.
Try it now
Sign up for a free trial and try our new Nearby Transport.
Questions or Feedback?