For the second time in the last few years, we find ourselves in a position to compare our TopPlace™ products with a very similar product released by Google (here's our previous post about maps).
After three months of testing, Google announced the roll out of a new update that includes a new location tab and location scores for hotel listings: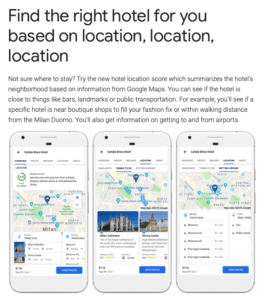 The rollout is certainly not surprising, as Google is trying the become a dominant force in the online hospitality space and location is one of the most important criteria travelers consider when choosing accommodation.
From our early days we knew that it will be only a matter of time before other parties (including Google) will consider developing similar products to finally solve the existing location profiling challenges. Given that we discussed TopPlace products with Google in the past, the similarity of our products is striking (it could also be an amazing coincidence):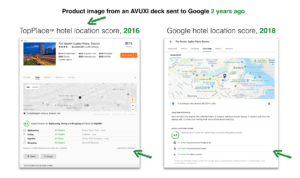 We took a closer look to compare the scores generated by each party. They are different. The main difference is in the methodology used to generate the scores. Google uses 3 main criteria – proximity to nearby things to do, transportation, and airports: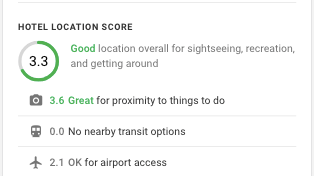 A curious detail is the airport accessibility criteria which, unless targeting those extremely short "in-and-out" business trips, we believe is less useful than more insightful scores of the surroundings of a hotel.
Perhaps that is partially the reason why we noticed some unexpected results on Google across different locations worldwide, with hotels located in very different city areas having the same scores. The example below shows a hotel up in the hills outside the main city area of Barcelona, having the same location scores as a hotel near the beach, not far from some very active "city hot spots".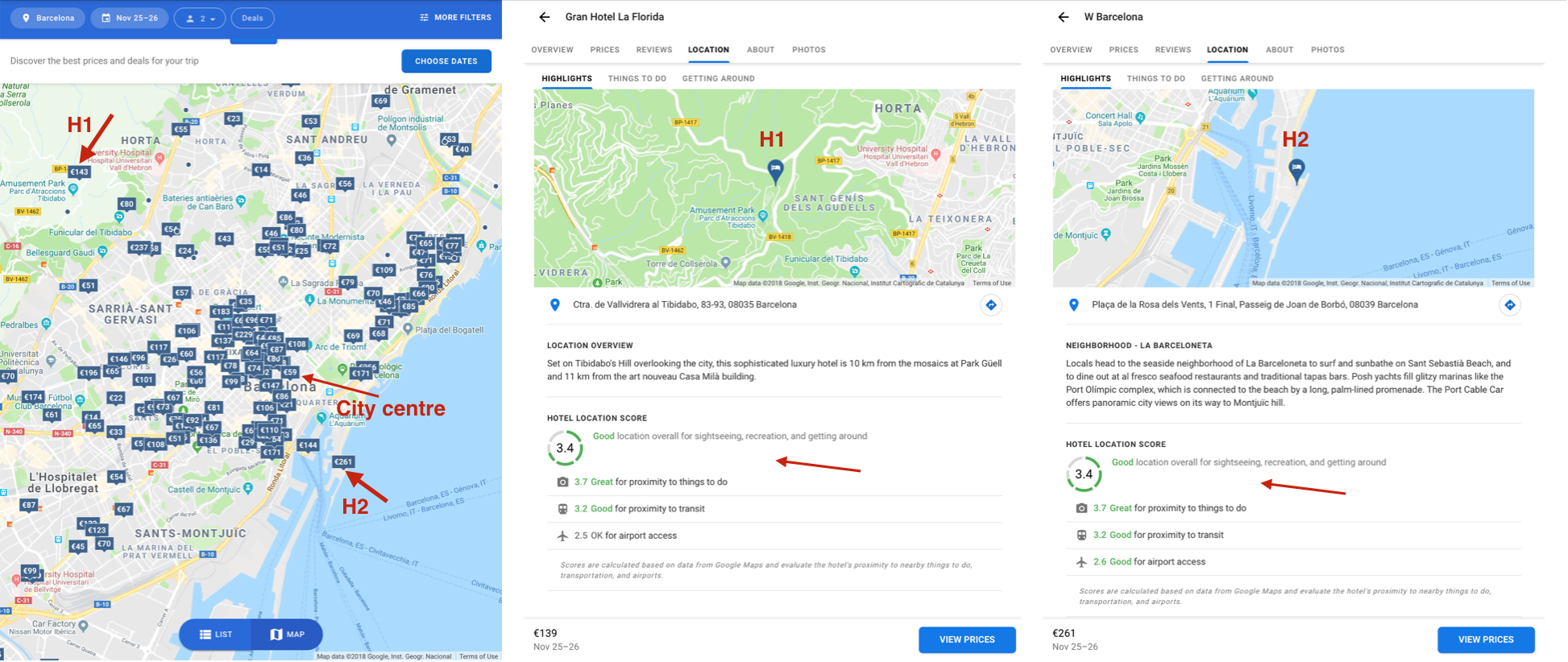 TopPlace™ Location Scores are generated by using 4 criteria: proximity to popular places for eating, shopping, nightlife, sightseeing and separately, nearby public transport. We calculate "proximity" as a convenient, reasonable walking distance from the hotel. We show a detailed categorization of traveler's main activity categories, because a great area for nightlife is not necessarily good for sightseeing, shopping or eating out.
Below are the TopPlace™ location scores for the same 2 hotels as in the example above, which do show a clear difference for each hotel: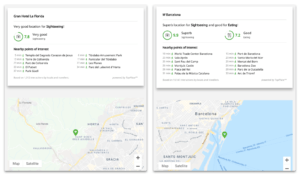 Since our location scores are based on a walking distance proximity from the hotel, we offer the nearby public transport info as a separate feature.
For general convenience, here is a quick comparison table of the main differences we identified: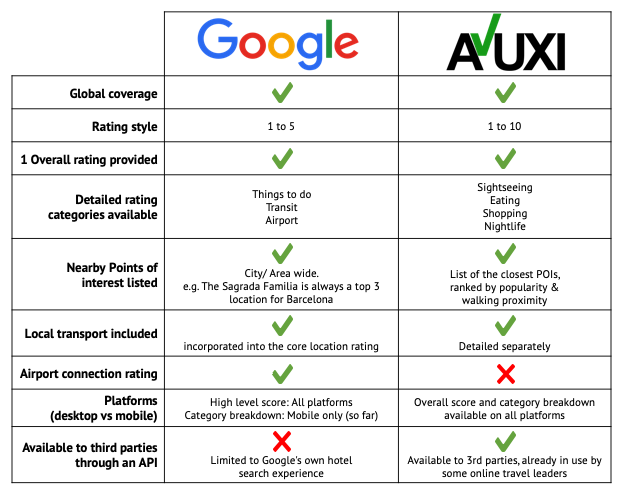 We believe there's no right or wrong methodology. Showing location scores and insights to users is much better than not showing any location profiling at all. In times of overwhelming amounts of disparate data, we are glad that location scores are finally becoming an industry standard. The main question is which methodology provides the most meaningful results to travelers.
Exciting times ahead.
We'll be glad to hear your comments. Please feel free to reach out to us.