We are excited to welcome HomeToGo to the TopPlace™ family!
It is always a humbling experience and a privilege to work with a market leader. Such cooperation also works both ways, allowing both sides to learn form each other and keep innovating to improve their products.

Who is HomeToGo?
HomeToGo is the world's largest search engine for vacation rentals. It allows you to easily search and compare over 17 million accommodation offers in over 200 countries from more than 1000 partners, including: Airbnb, Booking.com, VRBO, HomeAway, and TripAdvisor.
With intuitive features such as flexible dates, users can find their ideal vacation rental according to their preferred destination, travel dates, budget, and amenities. HomeToGo was founded 2014 and today it also includes the brands Tripping.com and CASAMUNDO. The Berlin-based company operates 23 local websites in Europe, America and Asia-Pacific.
Location Context for Search results
When it came to enhancing the location context for the millions of accommodation options available on their site, TopPlace™ was chosen. Decisive factors were a unique product offering with worldwide and multilingual coverage.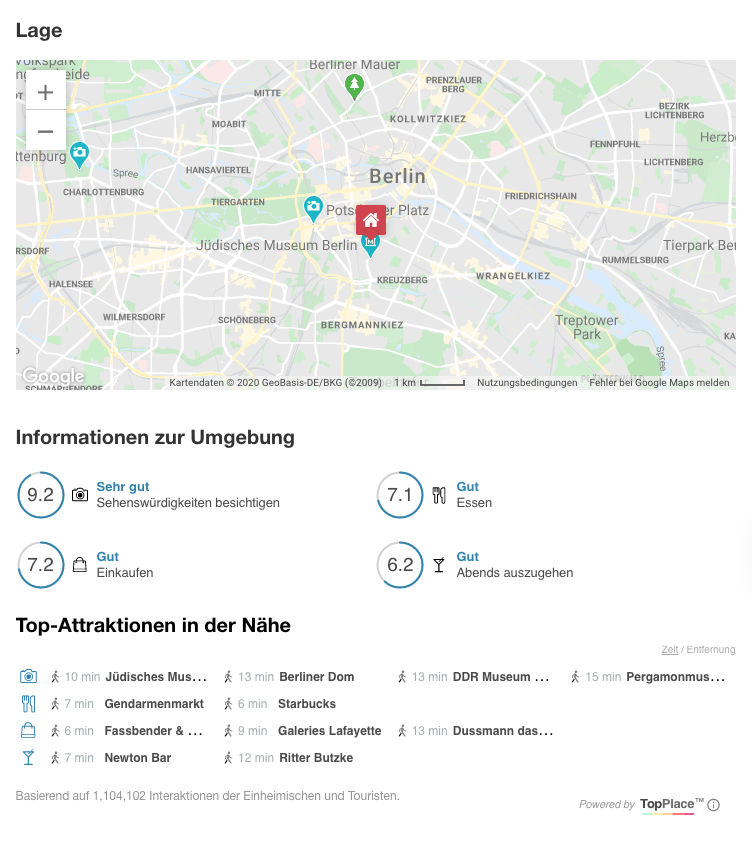 Location is a very important factor when choosing a vacation rental property. HomeToGo uses TopPlace™ Location Scores with nearby top POI's. This provides their users with an enhanced understanding of the location of each property. It allows a better understanding of the location and adds transparency to the results displayed. This makes choosing the right accommodation much easier and helps to keep visitors onsite while saving their time. Which in turn translates into greater customer satisfaction with the quality of the HomeToGo search service.
We are glad to be working together, making the online booking experience better for thousands of travelers!
If you'd like to know more about what TopPlace™ could do for you , feel free to sign up or reach out and we will be happy to help.
We look forward to having more travel companies joining TopPlace™ and enjoying all the benefits of our cooperation.
Welcome HomeToGo!