We are very happy to announce that TopPlace™ Nearby Transport Badge is now available on AVUXI's new platform!
This is another TopPlace™ Location Context product for Travel and Real Estate made available on the new platform since we launched it. Although this product has been available on the legacy platform, the new platform allows to tap into a growing amount of options and products.
More location context products will be added soon. Stay tuned!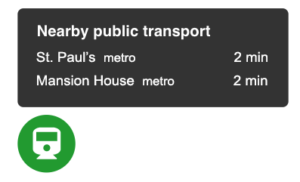 TopPlace™ Nearby Transport Badge – option without Generic Stops
What is the TopPlace™ Nearby Transport Badge?
The Nearby Transport Badge is a specially designed "web card" element, or widget, originally meant for Travel and Real Estate accommodation sites, e.g. OTA portals and metasearch sites.
This "info card" provides the nearest public transport options for every hotel and/or apartment. It helps highlight the properties located close to public transport – only properties within 800 m (10 min walk) to a train/metro station will display it. Automagically. No need to verify or manually update each property's description.
We have gathered and verified train and metro stations in ~100 major cities around the world, their names and locations. Our algorithms instantly calculate the proximity of any given location to the nearest transport stations.
The Nearby Transport Badge can be displayed in the listing results and on every hotel or vacation rental description page. Also in the property details page – in the "Location" or "Nearby" section, or just near a map.
Here's an example intended for the property cards on the search results page. Display it over the property photo or within the property info: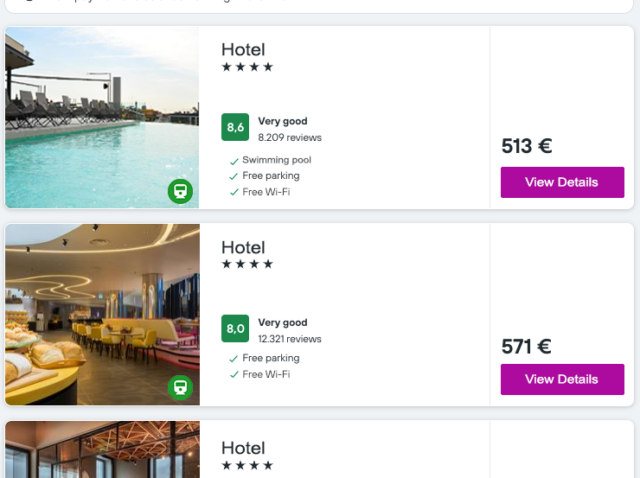 On mouse hover, it will show a tooltip with a list of nearest stations along with with walking time: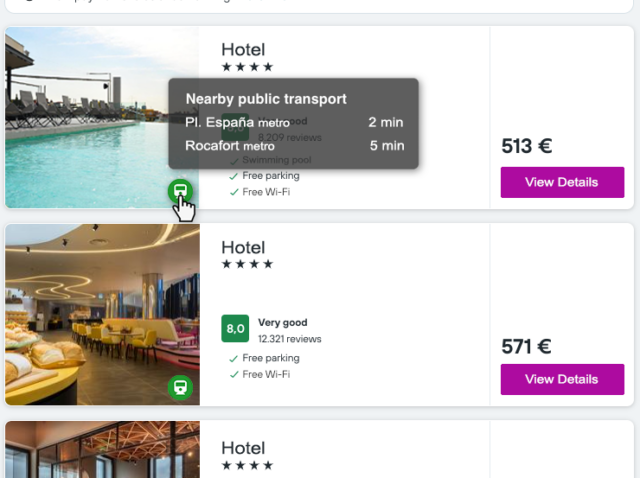 With TopPlace™ every listed accommodation can be accompanied with essential location context after a quick and simple "copy-paste" integration.
Why
is the TopPlace™ Nearby Transport Badge
relevant for your business?
Location is a top criteria when booking accommodation. It defines the desirability and pricing of any given accommodation. During the booking process a user can significantly change his mind regarding how much he's willing to spend on a hotel or apartment, based on how good / convenient the location is.
Users need a quick and easy way to get better informed and reassured about their booking choice. This is especially true when trying to book in an unfamiliar destination. Allowing the users to identify the best options to stay at without leaving the booking site (to do research about the location elsewhere) results in better user retention and booking results.
TopPlace™ Nearby Transport Badge is a quick visual insight that is particularly useful for travelers who plan to use public transport for business or leisure (most travelers to large cities!) and eliminates the need to search for this information on other sites.
At AVUXI we are obsessed with helping our customers to provide useful and contextually relevant location content on their sites. We strive to make it a simple process, with an affordable and very quick setup.
What are the new benefits of using our new platform?
We are very focused on catering to our clients needs and act accordingly. The added benefits of using the new TopPlace™ platform are:
✅ Free usage – now you can use our products for free, until you reach the monthly traffic threshold.
✅ Costs reduction – only pay for what you use, no fixed monthly fees (unless agreed upon request).
✅ Pricing transparency – now you easily compare our prices to other location products providers before deciding what's the best option.
✅ No time constraints – now you can deploy our products at your own pace, without worrying about the end of the free trial period.
✅ Better insights – as each product is tracked and billed separately, it's now very easy to understand the ROI of each product in use.
Why should this matter to You?
Enhance your user experience with the right location context – help users make informed decisions, faster
Generate more quality leads and increase conversions
Users like it! Make them want to use your service, again and again
Save months of work & development costs with a ready built, tested product
Save efforts & costs on data processing and updates
Clear & very affordable pricing
Easy & Quick Integration – Start for Free
It takes a very short time for 1 developer to integrate our products for in your website. It starts with just 2 lines of code.
The subscription is FREE and it can remain free for websites with small traffic until you reach a threshold of 1000 widget loads per month. Websites with higher traffic only pay per use and will get volume discounts.
Do not hesitate to contact us, if you have any questions.
Welcome to TopPlace™!