The famous saying "Location, Location, Location" was originated in the Real Estate industry.
It refers to the fact that the most important factor in determining the success or failure of a business or property is its location. Location is the top criteria that defines the desirability and pricing of Accommodation properties.
However, too often rental websites do not display much location information about the properties they offer. This usually happens because it takes a lot of time and work to collect all the necessary data, process it, extract the relevant elements and convert them into a usable and easy to understand product.
Isn't a Map Sufficient?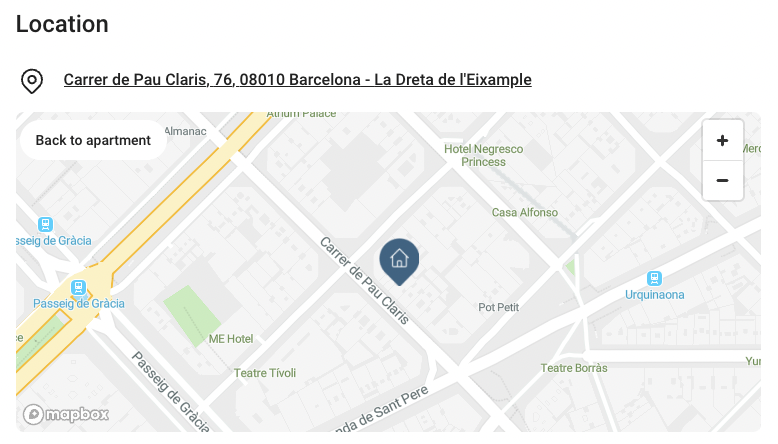 Does your target group consists of people who live in the same neighborhood of the property listing? Do your users already know what any given location is like? That's very unlikely.
Most rental websites use a map to show their users where a property is located, but a simple map or an address are not enough.
The vast majority of users are most likely to be unfamiliar with the location of the listing, the neighborhood, or even the city. Without prior knowledge of the location, these users won't be able to choose easily, nor wisely. Certainly not on a website that isn't helping them.
What is Location Context?
When it comes to Real Estate accommodation rentals, location context refers to the specific features or amenities of a given area, as well as the surrounding neighborhood.
Is it a popular area and what for? What type of services are located nearby? Factors like access to public transportation, nearby attractions and shopping options, restaurants, parks, gyms, schools and pharmacies in the area all contribute to the notion of the location.
Example of some TopPlace™ products that provide advanced Location Context and Maps: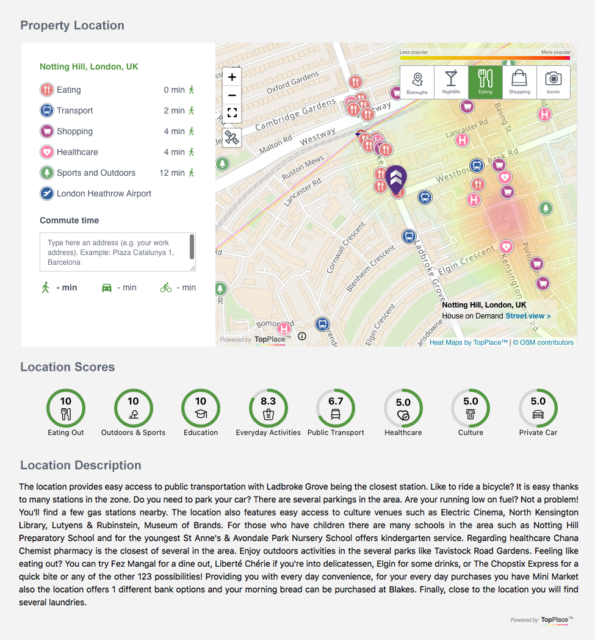 Location context is different for each case. Someone staying just a couple of nights for leisure will likely have different location priorities than someone with a family staying for a few months due to a relocation. Having the right contextual data for each use case is essential.
Why is Location Context Important to You?
A lack of meaningful location context and Maps during the accommodation search and booking process results in visitors being inadvertently pushed out of the website.
These visitors are simply left with no other option but to go elsewhere to find out which are the best location options for their stay. Needless to say, this creates unnecessary usability friction, loss of potential clients and advertising resources.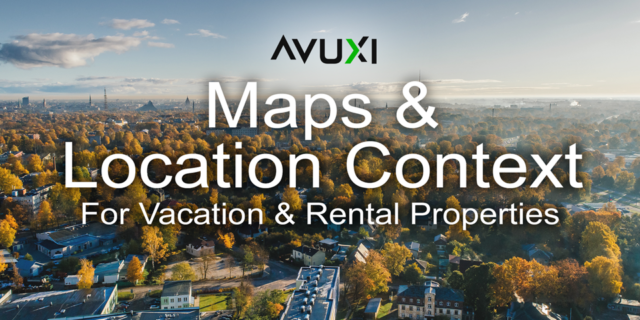 To keep your users engaged and satisfied, you need to help them understand better and faster what the location is like, for each property you offer.
At AVUXI we are obsessed with helping our customers to provide contextually relevant and useful location content on their sites. We strive to make it a simple process, with an affordable and very quick setup. With TopPlace™ any listed property can be displayed with essential location context very quickly. This means that maps, nearby points of interest, areas of interest, location scores and a description of the location can be added auto-magically.
How to Get More from your Website with Location Context?
Give users what they need to fall in love with your site, retain them, and keep them from looking elsewhere, especially your competition.
Our aim is to engage and serve users with useful Location Context and Maps. That is why we have developed 3 easy to integrate products that will help you unleash the potential of your site.
Let the products speak for themselves. We invite you to try our live demos below. Type any address in the green boxes below and see what users are going to see when they select any of the properties of your site.
1. TopPlace™ "Location Page" for Listings
The TopPlace™ Location Page for Housing on Demand answers key Location Context questions for tenants and travellers.
This is specially important in the 1st steps of the search process and it increases the productivity of your business, increasing quality leads and reducing unnecessary queries.
Potential tenants and travellers always ask: "Is the property in a good location?" "What is the nearest public transport?" "What is the commute time to work?" "Are there enough grocery stores, schools and parks nearby?"
A location on a map is not sufficient to answer all the questions about the location. Potential tenants and travellers want to know the relevant location context of every property they see online. To generate more quality leads and stay up to modern users's expectations, a website has to offer all the necessary insights to help its visitors make faster decisions.
For those clients who prefer to not disclose the exact location of their listed properties, but want to provide essential location insights, a circle area can de displayed instead of a pin on the map, just by changing a single setting:

2. TopPlace™ "Location Scores" for Listings
The TopPlace™ Location Scores for Real Estate increases the amount of quality leads even more. It works very well in combination with the Location Page.
The Location Scores consist of a set of scores for any address worldwide, rating a property location based on nearby services within a reasonable walking or driving distance.
The scores are generated in real time, with intricate calculations using large amounts of constantly updated location data. 8 score categories are generated by analyzing and grouping 42 sub-categories of relevant nearby points of interest.
3. TopPlace™ "Location Descriptions" for Listings
The TopPlace™ Location Descriptions provide essential location context to users during the property search process, increasing the amount of quality leads.
Additionally, the Location Descriptions reduce the workload of your team, improve the quality of the location information displayed and enhance your website SEO.
Why should this Matter to You?
Enhance your user experience with the right location context – help users make informed decisions, faster
Keep your users – help your users find the answers they need right on your website
Generate more quality leads and increase conversions
Users like it! Make them want to use your service, again and again
Save months of work & development costs with a ready built, tested product
Save efforts & costs on data processing and updates
Clear & very affordable pricing
Get analytics to make better decisions
Easy & Quick Integration – Start for Free
It takes short time for 1 developer to integrate all products in your site.
The product is FREE for websites and agencies with small traffic. Websites with higher traffic only pay per use and will get volume discounts.
Do not hesitate to contact us, if you have any questions about the Location Context and Maps we provide.
Welcome to TopPlace™!