Recently a mid-sized Online Travel (OTA) asked us to help them benchmark one of our TopPlace™ products vs Google Maps.
Why? Because some of our Location Context products include maps already, at no extra cost.
This often leads to clients facing the option of using a standard Google Map on their hotel description pages, or using our TopPlace™ Location Page.
Below we break down the key differences in Product and Price.
What are the Product differences?
Google Maps is a general purpose map, it doesn't provide location context for this specific use case – helping understand how good is the location of a hotel: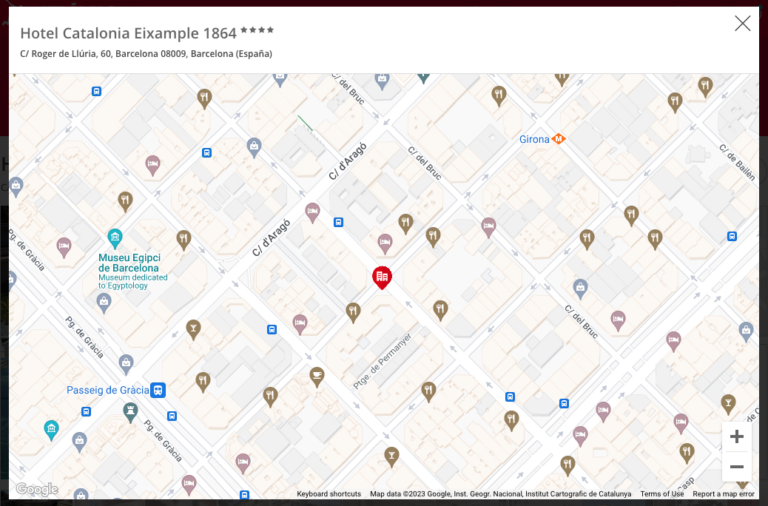 Screenshot of a standard implementation of a Google Map on a hotel booking website, not much context given.
Our "Location Page" product provides more than just a map. It comes with ready-built additional ready-built location context, which has been carefully crafted to display what's meaningful to travelers:
Location Scores
Best Areas map layers (as heat maps)
Nearby Top POIs
Subway lines
Satellite view
And of course, a nice and clean Map is also included in the product: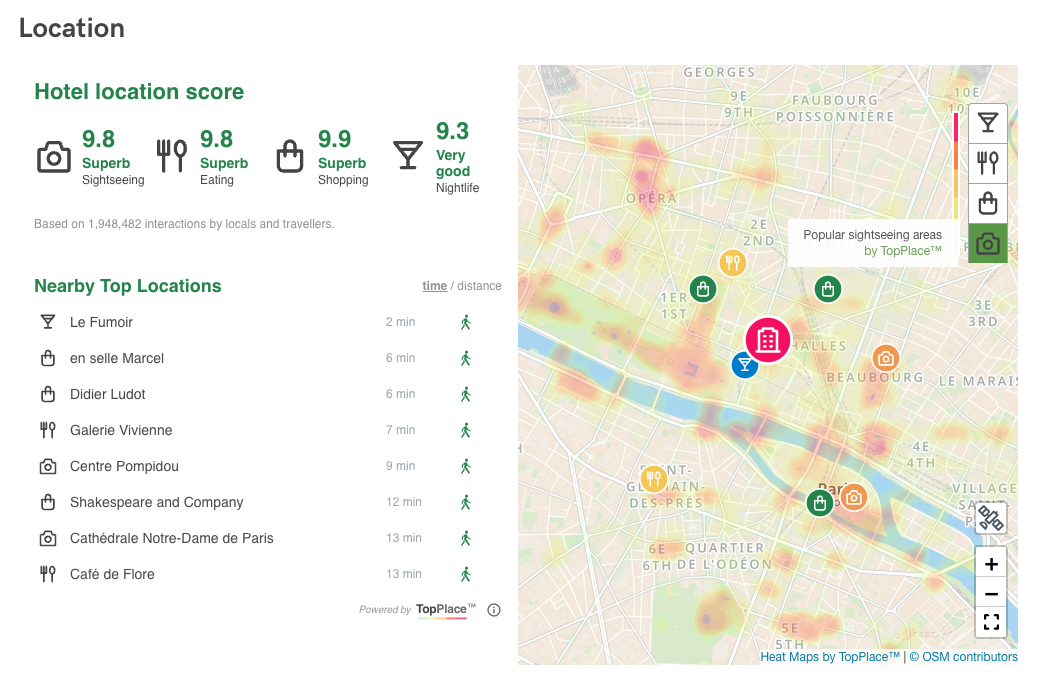 Screenshot of a TopPlace™ Location Page on an OTA hotel booking website.
The goal is to help potential bookers gain a very quick understanding about how good is a hotel's location for their most common daily activities, as travelers.
This leads to a faster and better booking decision.
Key differences compared to Google Maps:
Location Scores and best areas heat maps are not available from Google.
Requesting POIs, Subway lines and Satellite view from Google Maps will generate extra costs per each API request / call.
The time required for development when adding extra elements to the UI usually ends up being much higher than initially expected, raising costs further and delaying deployment.
The TopPlace™ Location Page has all the above mentioned elements already integrated. It's a product that has been carefully developed and tested, deployed across many accommodation websites and proven to work very well, generating great results.
Besides the costs savings, the results obtained are:
Higher booking conversions,
Higher average value per booking.
We will soon publish a separate post with more detail on why this happens (follow us at AVUXI to be notified).
What is the Price difference?
Using a TopPlace™ Location Page (which includes maps and more) costs roughly 10x less than a standard Google Map.
Here's a specific use case, with a relatively small amount of just 499K loads per month, which reveals a staggering difference:
2,934 $/m (Google Maps)
vs 
335 €/m (TopPlace™ Location Page)
That's an extra cost of over 31,000 $/year, lost from the hotel product margins of a small company!
We invite you to check it yourself in the reference links below.
499,000 map requests (equivalent to our loads) = 2,934.40 $ (≈ 2,675.60 €)

Screenshot from: https://mapsplatform.google.com/pricing/ – Google Maps pricing.

AVUXI's TopPlace™ Location Page pricing:
499,000 loads = 335.45 €

Screenshot from: https://www.avuxi.com/pricing – AVUXI's TopPlace™ Location Page pricing with much lower costs.

That's the same number of loads for about a tenth of the price! And with ready-built additional location context, which has been carefully crafted to display what's meaningful to your clients.
Conclusion
Using TopPlace™ is a triple win, because it:
Increases booking revenues,
Reduces development time (integration can be completed in < 1h),
Reduces monthly costs.
Stop loosing money daily and take action now
To start using our products for free, just sign up or reach out and we will be happy to help.