We are very happy to announce our new TopPlace™ products, tailored for online Real Estate: an updated Location Page for Real Estate and Location Scores for Real Estate!
Why? Because location defines the value and attractiveness of a real estate property.
"Location, location, location". Does it sound familiar?
TopPlace™ Location Page
The TopPlace™ Location Page for Real Estate answers key location context questions for buyers. This is specially important in the 1st steps of the search process and it increases the productivity of your business, increasing quality leads and reducing unnecessary queries.
Potential buyers always ask: – Is the property in a good location? – What is the nearest public transport? – What is the commute time to work? – Are there enough grocery stores, schools and parks nearby?
A location on a map is not sufficient to answer all the questions about the location. Potential buyers want to know the relevant location context of every property they see online. To generate more quality leads and stay up to modern buyer's expectations, a real estate website has to offer all the necessary insights to help its visitors make faster decisions.
TopPlace™ Location Scores
The TopPlace™ Location Scores for Real Estate increases the amount of quality leads even more. It also works well together in combination with the Location Page.
The Location Scores consist of a set of scores for any address worldwide, rating a property location based on nearby services within a reasonable walking or driving distance.
The scores are generated in real time, with intricate calculations using large amounts of constantly updated location data. 8 score categories are generated by analyzing and grouping 42 sub-categories of relevant nearby points of interest.
TopPlace™ Location Scores + Page = better Context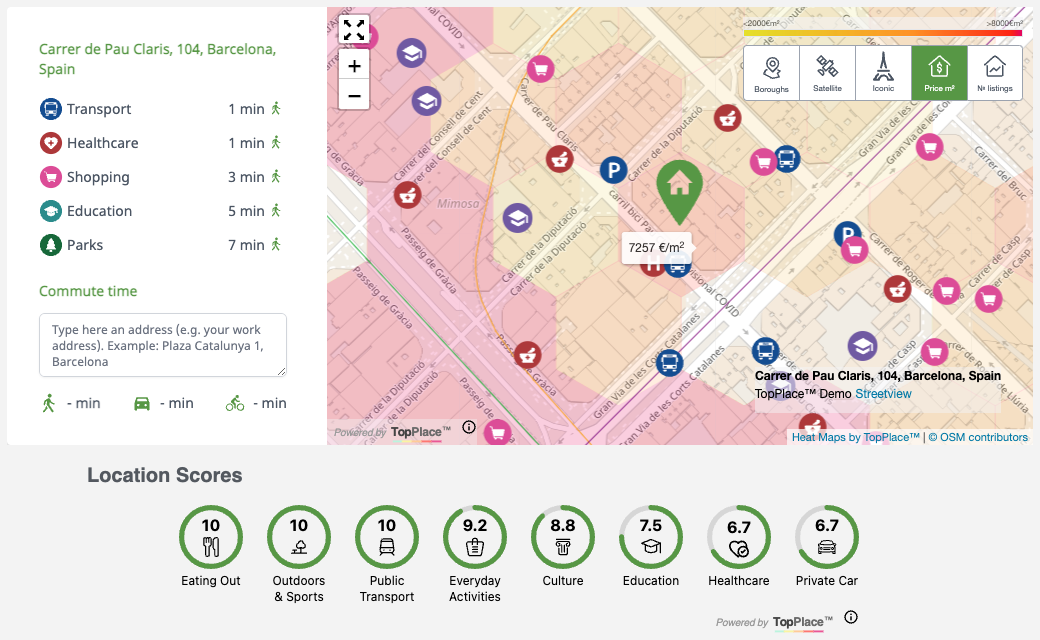 Combining both products: TopPlace™ Location Page and TopPlace™ Location Scores
Both products provide advanced Location Context to users. They are also very useful for those Real Estate Agencies who prefer to not disclose the exact location of their listed properties, but want to provide essential location insights. Instead of a pin on the map, a circle area can de displayed, just by changing a single setting:

Why should this Matter to You?
Generate more quality leads
Enhance your user experience with the right location context – help users make informed decisions, faster
Users like it! Make them want to use your service, again and again
Save months of work & development costs with a ready built, tested product
Save efforts & costs on data maintenance and updates
Affordable & clear pricing
Easy & Quick Integration – Start for Free
It takes short time for 1 developer to integrate all products in your site.
The product is FREE for websites and agencies with small traffic. Websites with higher traffic only pay per use and will get volume discounts.
Do not hesitate to contact us, if you have any questions.
Welcome to TopPlace™!