We are happy to welcome Splitty to the TopPlace™ family!
It is a privilege to work with an innovative company, winner of multiple travel awards. Travel came to a halt in the past months due to Covid-19 impact. However, innovative startups like Splitty have been using this time to focus on enhancing their product offering.

What is Splitty Travel?
Splitty folks believe that spending too much on hotels leaves less money to spend on events, restaurants, attractions or places to see. So they created a very smart, "new generation" accommodation booking platform. Splitty's team developed an award-winning algorithm that goes beyond simple search.
Their engine creates the best possible deal by combining multiple rate plans into a single booking. Instead of getting your hotel reservation from one provider, they split your hotel search to get over 1.5M booking offers from global distribution systems, wholesalers, and online travel agencies. Then they select the best offers and merge them back under one reservation into a unique travel deal at the hotel of your choice, at an unbeatable price.
Meaningful Location Context for every hotel, instantly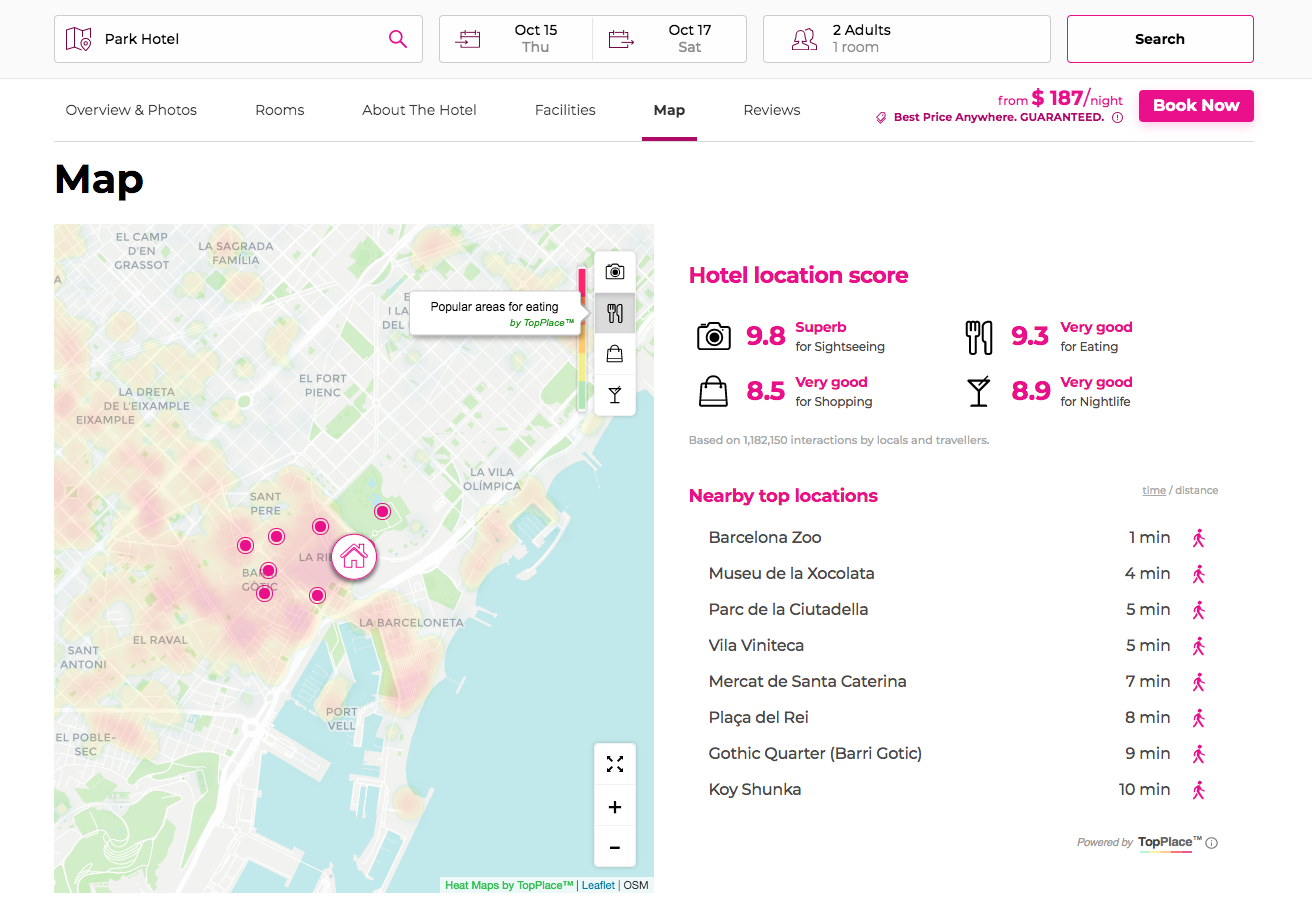 Location is an essential criteria to customers when choosing a hotel. A solution was needed that could quickly show the location, as well as the Location Context for every hotel in any city. AVUXI's plug & play TopPlace™ Location Page was a perfect solution for Splitty. It has worldwide coverage, is multilingual and very easy to implement.
The Heat Map layers allow travelers to visualize the city's most vibrant hotspots for Sightseeing, Eating, Nightlife and Shopping. The Location Scores allow for a quick assessment of the vibrancy of the location. The Nearby top locations show the most popular venues (POIs) within walking distance from the hotel. Last but not least, The Basemaps are also included, which allows to reduce costs by up to 70%, when compared to other basic map solutions.
All together, these combined essential Location Context elements add transparency to the search process and save the site visitors' time, helping them make the right booking decision.
We are glad to be working together, making the online booking experience much easier and better for travelers worldwide!
We look forward to having more travel companies joining TopPlace™ and enjoying all the benefits of our cooperation. If you'd like to know more about what TopPlace™ could do for you , feel free to sign up or reach out and we will be happy to help.
Welcome Splitty!