We are happy to welcome Traveluro to the TopPlace™ family!

What is Traveluro?
Traveluro folks believe that sometimes life gets in the way of travel. Even the best laid plans can change. When that happens, their goal is to make sure your money doesn't go down the drain. Traveluro does this by giving their clients the opportunity to sell their hotel reservation to someone else, if the client can no longer use it or cancel it.
Their site allows to book the best deal even if that means choosing a non-refundable option, and sell that reservation to another client if travel plans change. With millions of users viewing their deals every month, they are confident that any reservation will be sold in no time. Clients can also check the Discover page to find exclusive Traveler Deals posted daily by other travelers – one of a kind offers for an unbeatable price.
Meaningful Location Context for every hotel, instantly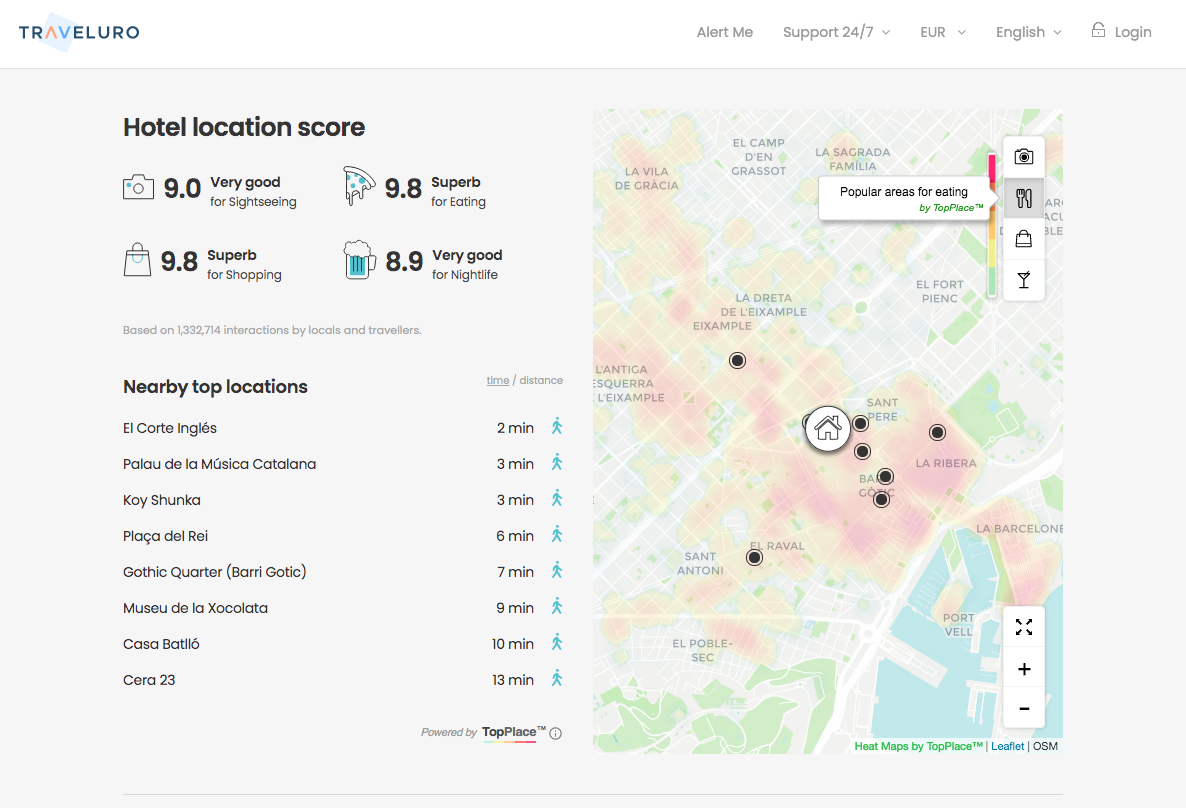 Location is an essential criteria to customers when choosing a hotel. A solution was needed that could quickly show the location, as well as the Location Context for every hotel in any city. AVUXI's plug & play TopPlace™ Location Page was a perfect solution for Traveluro. It has worldwide coverage, is multilingual and very easy to implement.
The Heat Map layers allow travelers to visualize the city's most vibrant hotspots for Sightseeing, Eating, Nightlife and Shopping. The Location Scores allow for a quick assessment of the vibrancy of the location. The Nearby top locations show the most popular venues (POIs) within walking distance from the hotel. Last but not least, The Basemaps are also included, which allows to reduce costs by up to 70%, when compared to other basic map solutions.
All together, these combined essential Location Context elements add transparency to the search process and save the site visitors' time, helping them make the right booking decision.
We are glad to be working together, making the online booking experience much easier and better for travelers worldwide!
We look forward to having more travel companies joining TopPlace™ and enjoying all the benefits of our cooperation. If you'd like to know more about what TopPlace™ could do for you , feel free to sign up or reach out and we will be happy to help.
Welcome Traveluro!